Welcoming the Grey-faced buzzards passing through, the lantern gate of Taiwan Lantern Festival, at Bagua Mountain, greets them with its artistic lantern gate "The Legendary Creature's Feathers."
---
更新日期:2021-03-26
Given the epidemic spreading around the world, the "2021Taiwan Lantern Festival" has been decided to discontinue, and "Praying for Taiwan" is the alternative plan exhibiting various lanterns by traveling exhibition in Taiwan. During the period when the Grey-faced buzzards passing through Bagua Mountain, the artistic lantern gate "The Legendary Creature's Feathers" as the lantern gate welcoming the Grey-faced buzzards is exhibited alongside the visitor center from March 15 to April 5, during which we will give visitors lovely small lantern signifying the Year of the Ox.

Yu Wenfu, the artist behind "The Legendary Creature's Feathers," described the magnificent scene that Grey-faced buzzards hovering over Bagua Mountain. It's a wonderful moment for people observing them with binoculars. Compared to a long history of the Earth, the life span of humans and birds is much shorter. Yu's artistic lantern encompasses the artistic elements the Grey-faced buzzards, birds' feathers, seasonal colors, and lights that signify the short time of people meeting birds. This artwork, moreover, symbolizes the wonderful moment that people live harmoniously with nature and cherish the beautiful world.
The visitor center of Bagua Mountain has the first pavilion themed the Grey-faced buzzards in Taiwan. "The Legendary Creature's Feathers," as a gate artistically manifesting the image of the Grey-faced buzzards, meaningfully signifies the period during which these birds passing through Bagua Mountain. We prepare for our visitors the lovely small ox-shape lanterns. From February 28, there are 1,400 small ox-shape lanterns at the visitor centers of Guguan, Lishan, Shishan, Nanzhung, and Bagua Mountain. Those checking in with their apps can have our lovely small ox-shape lanterns, which are limited. You can see find the detailed information from our fan page.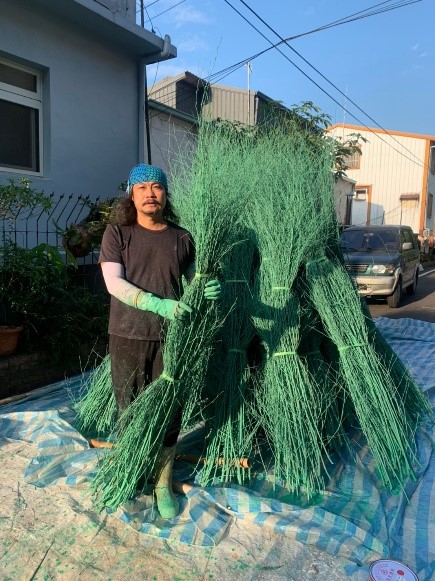 Every March, around the spring equinox, there are many Grey-faced buzzards flying over a long way from Philippines. For Bagua Mountain rich in biodiversity, many Grey-faced buzzards will stop by here. They fly up in the early morning and down in the evening. The so-called "Eagle Pillar" is the scene made of a massive amount of Grey-faced buzzards spiraling ups and downs, thus becoming an amazing ecological landscape at Bagua Mountain. Evert year, there are numerous visitors coming here for this scene.